Business Valuation Resources
SPECIAL OFFER!
Register today for the 2015 year-end superconference event and
save $50 per day! See details below.

Keynote Addresses:

Daily Conference Registration Fee
(live or online broadcast):

NACVA, KVD, IBA, or EPI Members: $540

Non-Member: $600

Enter code "15BVR" to save $50 per day when registering for one-day or "15BVR2" when registering for two-days.




Session Tracks:

Concurrent Training Programs:

NACVA recertification courses require separate registration fees. Early registration discounts available. Contact Member/Client Services at (800) 677-2009 for more information.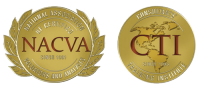 National Association of Certified Valuators and Analysts
Consultants' Training Institute
5217 South State Street ▪ Suite 400 ▪ Salt Lake City, Utah 84107
Tel: (801) 486-0600 ▪ Fax (801) 486-7500
www.NACVA.com ▪ www.theCTI.com